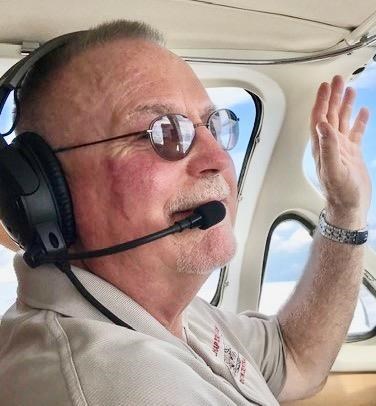 Confident Passage…On Feb. 22, 2023, Sean Sweeney of Wasola, Mo., was face to face with his Lord and Savior.
Sean was born in July 1958 and lived an adventurous childhood, learning about the farm from his mother and learning aviation and engineering from his father. Relocating to the West, Sean met his high school crush, Cleta, whom he later married and enjoyed life with for over 40 years.
As teenagers, they were blessed to accept Jesus Christ in youth group and enjoy the soul love of two who knew that bond. Sean felt his life was always blessed. Faith first, which he was able to share and secure his precious children with. Second, his enjoyment of his family: his cherished wife and amazing daughters who went on to bring sons-in-law to the family that Sean was proud to call his own. Most importantly, both girls introduced him to the indescribable joy of grandparenting, something he treasured beyond words.
The girls went on to have successful careers: They so enjoyed sharing their accomplishments with him and were grateful for his constant support.
He loved growing a small concrete business from a goat barn to a national entity today. He made friends with almost all his customers, and even though he had turned most of the business over to his family, he kept his fingers on quality and service.
He spent his last few years with amazing aviation opportunities: he loved the missions he flew and the people he helped. He enjoyed the families he contracted with and felt they were a part of his own. He mentored several pilots and got great satisfaction encouraging them to reach their goals.
Sean is beloved by many. At the time of this article, there would have already been a memorial for him, with three more planned in states where he maintained homes and lifelong friendships. The family will have a celebration of life later, planned at the beloved family farm Sean referred to as "the Sanctuary"
Sean is survived by his wife Cleta, his two daughters and their husbands, and two grandchildren.
The omission of gifts and flowers is requested. Donations may be made to the Sweeney Aviation Scholarship fund by contacting Town & Country Bank, Ava, Mo.