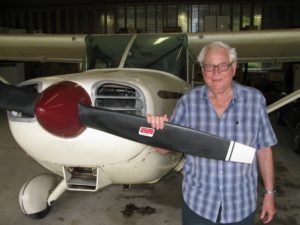 James Dale Braden, 82 died December 17, 2016 in Topeka, KS. He was born on August 2, 1934 in Clay County, KS the son of James Wesley and Olive (Reed) Braden. Jim was raised in the Wakefield, KS community and graduated from Wakefield High School. He worked as a meat cutter before receiving his insurance license. Jim owned and operated Braden Financial in Clay Center for several years. He married Margie (Clark) Tidwell on September 17, 1983. Jim was elected to the Kansas Legislature and served for 16 years. His final four years in the legislature, he served as Speaker of the House of Representatives. Jim was a member of St. Paul Episcopal Church and Clay Center Rotary Club. He served on the Wakefield and Clay Center School boards and on the People's Bank Board of Directors. Jim was preceded in death by his parents and two brothers, Galen and Duane Braden
Jim is survived by his wife: Margie Braden; sons: Greg and wife Sandy Braden, Michael and wife Jenise Braden, Ladd and wife Rita Jo Braden; daughter: Amy and husband Scot Dye; step-sons: Rick and wife Sarah Tidwell, Lon and wife Anita Tidwell, Dale and wife Sharon Tidwell; 10 Grandchildren and 8 Great-grandchildren
Memorial Services will be December 21, 2016, at the St. Paul's Episcopal Church in Clay Center, KS and January 14, 2017, at the St. Andrew's Episcopal Church in Mountain Home, AR.
In lieu of flowers, memorials can be made to St. Paul Episcopal Church or St. Andrews Episcopal Church.
Taken from Celebration of Life Sermon – Rev. Jim McDonald, Rector   "I for one am thankful that I had the privilege of knowing Jim and I am grateful that in preparing for this celebration I had the opportunity to get to know, in part, more of his family. Their love for him was evident – and as one of his children said, 'not one of us is at a loss for words.' So I could go on and on sharing great stories and quotes about his adventures, getting stuck in his plane with his son-in-law and granddaughter on a hot day and so on. But let me say, his love of people and his love of telling a good story certainly lives on in them."  Click here to view/download the full text.   Sermon for Jim Braden 
Rudy Polacek writes:  "We were close to the Bradens, celebrating birthdays and holidays together. Jim was a good neighbor, the first to offer help. A fly fisherman that tied his own flies and enjoyed fishing, he was a pilot and flew from their hometown to the Valley."
I'll Fly Away – Sung by Betsy Johnson (the real Betsy Boo). The music should automatically play when any of the following pages are opened. However, Apple disables the autoplay feature….you must click on the play/pause button found in the upper part of the screen.