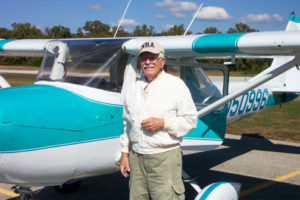 Richard (Dick) Christ, of Cotter, died on December 6, 2016, at the age of 84, leaving behind a host of friends, and his loving family.
He is survived by his sister Karen Wentzel; children Susan Smith, Cynthia Christ, and Daniel Christ; grandchildren, Marnie Hanrattie, Loring Smith, Hilary Smith, Michael McCormick and Robert Poole Jr.; 8 great-grandchildren; numerous nieces and nephews all over the Midwest, and his lifelong best friend Fred Paepke.
He was preceded in death by his wife Beverly (2016), parents Clifford & Gertrude Dikeman, his brother Kenneth Christ, his sister Jean Hembd, his brother Merwin Dikeman, his daughter Connie Christ McCormick (2006), and his son David Christ (2016).
He grew up on French Island in La Crosse, WI, and lived across the street from his future wife, Beverly. They went on to be married for 65 years. Richard served in the Air Force during the Korean War. Over the years, he worked at the Trane Co. (La Crosse), Dezurik Corp. (St. Cloud), owned a golf course in southern Minnesota, and finished his career as head of prison industries for the State of Minnesota (Minneapolis). Richard enjoyed photography, old movies, and telling jokes. He sang in barbershop quartets for many years in St. Cloud and Mountain Home. He received his pilot's license at the age of 16 and owned airplanes his entire life. He was very active in Civil Air Patrol and achieved the rank of Captain. Richard and Beverly were instrumental in organizing a CAP Squadron in St. Cloud. A couple of years ago Richard achieved the coveted Wright Brothers Master Pilot Award from the FAA. Rare and difficult to achieve, you must fly for 50 years without incident. Richard and Beverly enjoyed flying to visit family and friends and flew all over the country from their airpark. Flying was his lifelong passion. Richard and Beverly retired to the area 13 years ago. He had numerous dear friends in Cotter and Mountain Home who shared his passion. Richard was very proud of his achievements and of his children. Our special thanks to close friend Bill Mizell who watched over our Father during the past year.
A private memorial service will be held at the La Crosse Airport at a future date.
I'll Fly Away – Sung by Betsy Johnson (the real Betsy Boo). The music should automatically play when any of the following pages are opened. However, Apple disables the autoplay feature….you must click on the play/pause button found in the upper part of the screen.